The Newry & Mourne Sub Aqua Club - Diver Training
Diver Training updated: 06.11.09
Where can I learn to dive, how much and how long will it take?
We run Ocean Diver courses five times a year. Our Diver Training takes place in the Winter months. Our next course starts on Wednesday 25th March 09. The training will take place on a Wednesday evening between 7.30pm and 9.15pm. The pool session training will consist of lectures and scuba instructing in the pool, under the supervision of several experienced BSAC Scuba Diving Instructors. The Scuba Diving course will cover basis theory, basic skills and physiology. The pool training will last approximately six weeks. The course will also cover the use of mixed gas diving (Nitrox) A breathing gas used for diving with an oxygen content greater than that of air (21%). After your basic pool training, you will progress to Carlingford or Strangford Lough where five dives will be undertaken in a sheltered and controlled environment. These dives will be on a Sunday morning, under strict supervision. Our next course will start in early September 08.
There is an initial cost of £140.00, which includes training. You will also automatically have BSAC Membership. This membership includes insurance and the monthly issue of "DiveMagazine". Thereafter there is a monthly direct debt charge of £40.00. This charge covers the use of the club boats, all the Nitrox you require, filling of your tanks and the weekly use of Newry Swimming Pool for you and your family between 7.30pm and 9.00pm. Payment can also be made by Credit Card. During your training it is expected that you would attend the week-end dive in order to see what takes place during the dive.
Upon you qualifying as an Ocean Diver, you will be certified and given a British Sub Aqua Club Licence. This licence will enable you to hire equipment and or dive anywhere in the world to a depth of 20 metres. Subsequently there are additional courses available. Sports Diver, Dive Leader, Advanced Diver,First Class Diver, and an extensive amount of Technical Diving Courses, which would enable the right person with the correct training and skills to dive to 80 metres. There are Technical agencies that allow depths greater than this to be dived. The current dive record for recreational diving is 342 metres.
What about diving gear and what sort of money will the gear cost?
For your pool training, we can lend you all of the gear that you will require, however if you are really serious about this sport then it is only natural and inevitable that you will require your own gear. We have a great relationship with Collins and Chambers in London Tel: 0208 9850752 (Tony Collins), who sell first class fully serviced quality second hand gear at unbelievable knock down prices. Where else could you pick up a 1st class set of regulators, fully serviced and guaranteed for as little as a £175.00?
Please speak to your Instructor, before you purchase any equipment, as you may end up purchasing equipment that is wrong for our type of diving. The cost of your diving suit, will be around £500 depending on the quality. (Chris Hammond at Hammond Drysuits has done a deal with our Club to supply their 580 Pro at £440.00) The Scuba equipment will be around £500.00. An 18 Litre tank is £255.00. Buying second hand would be around 60% cheaper, subject to availability.
We can offer a "Try Dive" most Wednesday evenings, so if you are interested please call, or forward an e-mail, where we can answer any questions that you may have.
Peter McCamley 07836774694
Diving Equipment Suppliers
Collins & Chambers Ltd
197-199 Mare Street
London E8 3QF
Tel: 0208 9850752
NEXT DAY DELIVERY:
Top Brands, Great Value & Top Quality Diving Equipment
Contact: Tony Collins.
"Remember Nautilus..........there's a great deal behind the name"
Dive Force Marine
Tel: 02088030241
Contact: Terry, Jean or Scott
Great Gear, Great Prices. Great Service.
If you need 1st class second hand or new gear, at knock down prices.
Call these people. NOW!...Same day despatch. Next day delivery.
Get your best price, then ring them. Your 10p phone call will save you pounds!.
DIVER TRAINING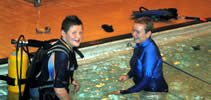 For those among you who have often wondered what it would be like to breath under water, the opportunity maybe closer to hand than you think. Alternatively, have you been on holiday recently and seen people diving and wondered to yourself. "I wonder what it would be like to scuba dive?" During the winter months from October to March, Scuba Diving Instructors from Newry & Mourne Sub Aqua (NMSA) allow the opportunity for members of the public to have a "Try Dive in Newry Swimming Pool. These Try Dives are available by appointment on the last Wednesday of each month. All you have to do is call one of the following numbers:

028 30868436 (Philomena Gonnelly)
028 30265953 (Gerry Brown)
07836774694 (Peter Mc Camley)

Try Dives are a way of allowing the public a small taste of what scuba diving is all about.
On the evening commencing at 7.30pm and finishing at 9.00pm those who wish to take part in the try dive are taken to the pool side and simple, basic, easy to understand explanations and instructions are given to the novices by British Sub Aqua Club (BSAC) qualified Scuba Diving Instructors. During the initial chat, the Instructors will find out how competent the novices are in the water.
Often it has been found that people feel that they have to be a cross channel swimmer in order to become a diver. This is not the case. All that is required, is that the participant is in good physical health and not afraid of enclosed spaces or water. Diving is all about being comfortable in your new environment.
Following this, the novices are introduced to the basic equipment of mask, snorkel and fins.
Once the basic equipment has been fitted and all feels comfortable, the novices will be allowed to enter the pool and under the guidance of an Instructor, begin to fin a couple of lengths of the pool at the surface. This gets them used to the fins and the water temperature.
If the swim is successful, then the novice will be introduced to the (SCUBA) Self Contained Underwater Breathing Apparatus. After an understanding of the basic concepts of the SCUBA equipment, the novice will be fitted with the equipment and allowed to use the equipment under the watchful eye of the Instructor in the one meter shallow end of the pool.
If this early part of the session is successful, then the novice will be allowed to progress to the deeper,two meter end of the pool, where some of the basic techniques may be shown.

The whole Try Dive will take approximately one hour and thereafter the novice will have the opportunity to decide if it is something that they would like to get seriously involved in. The decision would be totally left up to the individual.