Welcome to Newry & Mourne Sub Aqua Club!
Welcome to the site!
Newry & Mourne Sub Aqua Club has been going for nearly 40 years and has members from all walks of life, some very experienced divers and others who have just begun to discover the pleasure and excitement that can be found under the waves! The club was pioneered and funded by local enthusiasts in the late 1960s and early 1970s. Don't hesitate to get in touch with us using the 'Contact' link on the left if you've any questions about joining the club to train and qualify to dive or, if you are already certified, to just dive.
A Newry and Mourne Sub Aqua Club dive to the SS Boniface off the coast of Donegal. 14 divers made the trip down to Bunbeg for the weekend for a great dive on the World War I wreck. (Video KP).
Video of a Newry and Mourne Sub Aqua Club dive to the First World War German U-boat U89 which was rammed by HMS Roxburgh in February 1918 and sent to the bottom with her crew of 43. Keep an eye out for the dolphins just in front of the bow racing the boat at the beginning of the video! (Video by KP)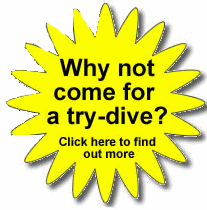 ---