Welcome to Newry & Mourne Sub Aqua Club!
Video of a recent Newry and Mourne Sub Aqua Club dive to the SS Boniface off the coast of Donegal. 14 divers made the trip down to Bunbeg for the weekend for a great dive on the World War I wreck. (Video by Kevin Pollard).
Video of a recent Newry and Mourne Sub Aqua Club dive to the First World War German U-boat U89 which was rammed by HMS Roxburgh in February 1918 and sent to the bottom with her crew of 43. Keep an eye out for the dolphins just in front of the bow racing the boat at the beginning of the video! (Video by Kevin Pollard)
Welcome to the site! Please use the list on the left to navigate around the site and don't hesitate to get in touch with us using the 'Contact' link if you've any questions. Newry & Mourne Sub Aqua Club has been going for nearly 40 years and has members from all walks of life, some very experienced divers and others who have un to discover the pleasure and excitement that can be found under the waves! The club was pioneered and funded by local enthusiasts in the late 1960s and early 1970s, the Newry & Mourne Sub Aqua Club started with a series of shore dives in and around Carlingford Lough.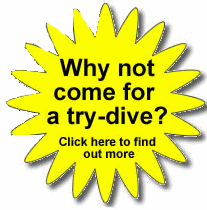 These dives often involved a long swim to reach sites and were usually carried out by single divers as there was not enough equipment to implement a Buddy system. .Today we have 2 diesel & 2 petrol high powered RIBS and our Technical Team has a group of 8 highly trained Trimix Divers, capable of diving to depths of 100+ metres. Our Club was one of the first clubs in Ireland with a dedicated Nitrox Compressor Unit. (ie a Compressor unit with the capability of producing air fills with a greater oxygen content than that of 21%) We have just purchased a second new Compressor at a cost of £7k, funded soley by the Club, in order to cope with the 400% increase in membership over the past 24 months.
---


| | | |
| --- | --- | --- |
| | Club News | |
Updated 04/03/13
Fancy a Try-Dive? Come along to Newry Swimming Pool for an evening's fun. We'll supply the gear! Leave your details on our 'Contact' page and we'll get back to you.
****